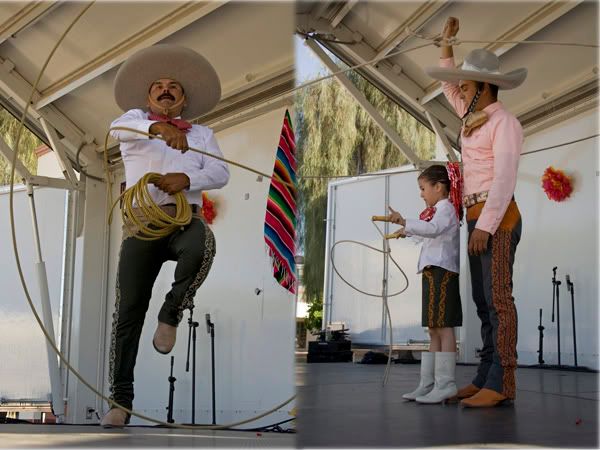 An unexpected treat on Saturday afternoon : the Reynosos represented by Tony, Antony Jr, Jeremy, 13, and Analise, 6.
This family comes from Guadalupe and routinely performs a Mexican style roping. It requires a lot of patience, hardwork and time as summarized by Tony's words. As a family they perform at schools and during festivals.
* Cinco de Mayo is more about Mexican Heritage than about the Mexican Victory over France in 1862 –General Ignacio Zaragoza's troops defeated Napolean III's French forces at Puebla- and rather celebrated in the U.S. than in Mexico. Celebrations include parades, Mariachi music and dancing.

Une surprise bien inattendue samedi après-midi: la famille Reynosos composée de Tony, Antony Jr, Jeremy, 13 ans et Analise, 6 ans et venant de Guadalupe nous a fait des démonstrations de lasso. Tous ensemble ils visitent les écoles et participent à de nombreuses fêtes qui les amènent parfois même en dehors d'Arizona.
* « Cinco de Mayo » est plus une question culturelle que la célébration de la victoire mexicaine sur la France en 1862 –les troupes du général Ignacio Zaragoza vainquirent les forces de Napoléon III à Puebla - C'est une fête qui est célébrée sous forme de parades, de musique Mariachi et de danses.