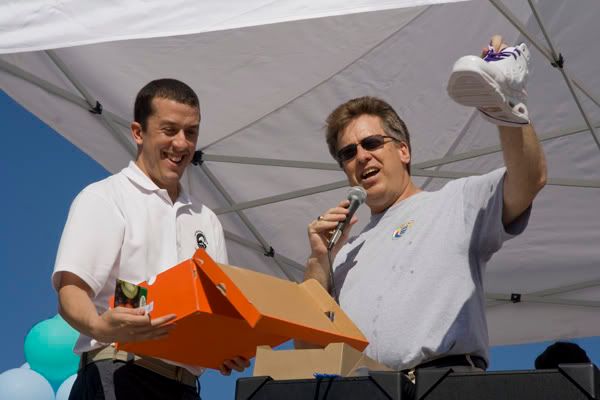 Chandler,

Twice a year families are invited to come and play: running, walking (5K & 10K), jump roping, playing on bouncies, racing in potato bags… and the children compete for prizes.
The finale: a firework!

Meet our Mayor Boyd W. Dunn who came to encourage participants and deliver the awarded prizes presented by the Coyotes Athletic Centers.
Mayor Dunn just won re-election to his fourth term ending in 2010.

Deux fois par an les familles sont invitées à se réunir et à jouer: courir, marcher (5 & 10 kilomètres) sauter à la corde, jouer dans des structures gonflables, participer à des courses en sac, les enfants y gagnent des prix.
Un feu d'artifice clôturait la journée.

Voici notre maire Boyd W, Dunn venu encourager les participants et distribuer les prix présentés par les centres athlétiques Coyotes*.
Le maire, Mr Dunn, vient d'être réélu pour un quatrième mandat qui se termine en 2010.

* Coyotes : « Phoenix Coyotes » l'équipe de hockey sur glace de Phoenix.