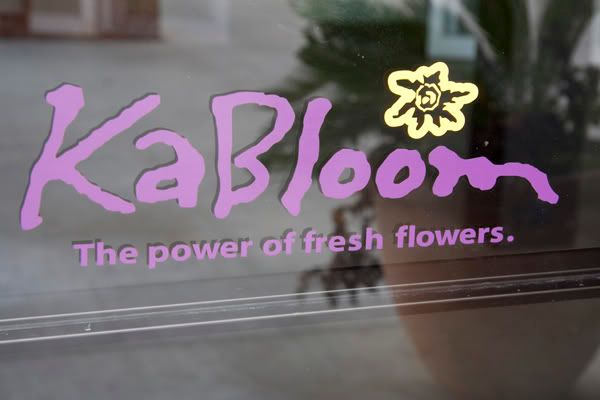 Chandler,

2009 has been hard for a lot of people and I am wondering what is "a lot" in 2008 compared to what a "lot" will represent in 2009.
KaBloom's is/was a flower shop close to home. There was a walk-in cooler where I could come in and look. There was Kathy, the local manager, always with a smile and ready to help and put together a bouquet or a wrist corsage, If I was not in the mood for flowers there was always a small gift to choose from, a butterfly on a stick, a handcrafted wooden angel …
KaBloom's is no more. There are two signs on the door: one from the landlord, the other one from the electric company.
I am really sad today.
2008 a été une année dure pour beaucoup et je me demande ce que "beaucoup" représente en 2008 par rapport à ce que "beaucoup" représentera en 2009.
KaBloom est/était un magasin de fleurs près de la maison. Il y avait une chambre froide dans laquelle je pouvais entrer et faire mon choix de fleurs. Il y avait Kathy, la gérante, toujours un sourire aux lèvres, qui avait le don d'arranger un bouquet ou un « bracelet fleurs » pour une danse d'un des enfants et si je n'étais pas d'humeur pour un bouquet, il y avait toujours des petites choses parmi lesquelles choisir : soit un papillon au bout d'une tige, un ange en bois sculpté main…
KaBloom n'existe plus. Il y a deux écriteaux sur la porte : l'un du bailleur , l'autre de la compagnie électrique.
Je suis vraiment triste aujourd'hui.