Tempe, 2009


More than 5,000 students graduated from ASU this last week… Ceremonies spread out over December 17 and 18th in Wells Fargo Arena in Tempe.
3882 graduated on Saturday (about 540 engineers, 1,200 business students, 740 teachers and school administrators about 1,500 in liberal arts and sciences… (humanities, natural sciences and social sciences)

Un peu plus de 5000 étudiants reçurent leur Bachelor degree (quatre années d'études après le bac) la semaine dernière. Les cérémonies se sont étalées sur deux jours : jeudi et vendredi à « Wells Fargo Arena » à Tempe.
3882 ont reçu leur diplôme samedi : environ 540 ingénieurs, 1200 étudiants en business, 740 professeurs et administrateurs d'écoles et environ 1 500 dans le domaine des arts libéraux et sciences.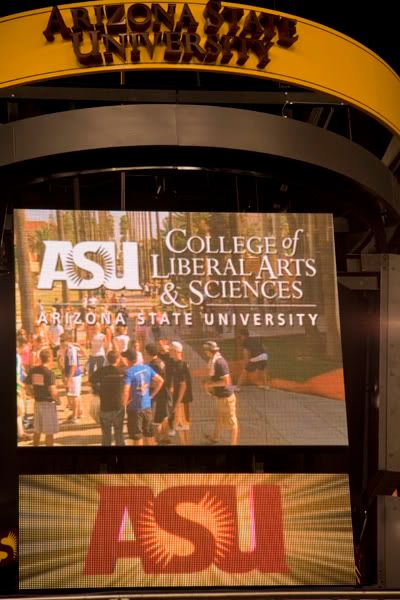 "Stay positive during trying times" was the message by Michael Crow, president of Arizona State University.

Le message lance par le président de l'université de l'état d'Arizona : « Restez positifs pendant ces temps difficiles »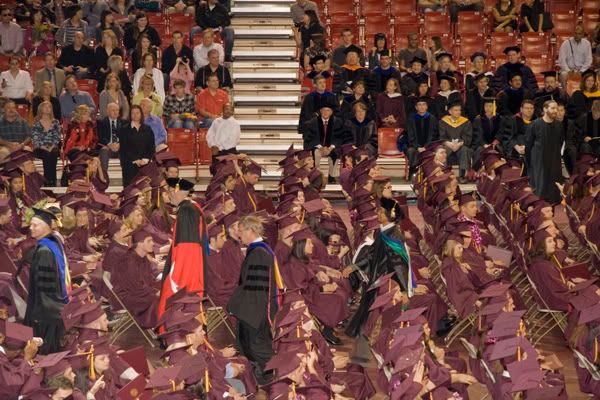 Due to security reasons, no graduation cap was allowed to be trowned in the air ! We were so disappointed…
Dû à des raisons de sécurité, les étudiants n'ont pas eu le droit de lancer leur chapeau (carré) en l'air! Nous avons été drôlement déçus…