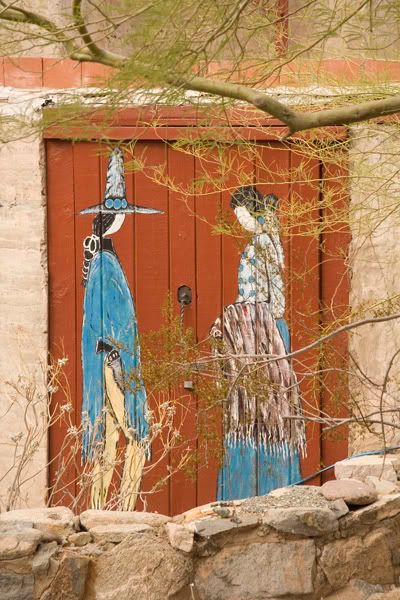 Mystery Castle -South Mountains- 2009


When Mr. Gulley died, he left instructions to not open the trap door till 1948. When the door was opened they found $ 500, gold nuggets and the property's deed.
Personally I love this place. Nothing can be or go wrong whatever you may be adding, doing or saying while you are there…
I did not take any pictures of the inside being to busy listening to the guide and a little puzzled about the junk inside. I'll probably go back in the near future to take pictures of the original version.

A sa mort, M. Gulley laissa l'instruction de ne pas ouvrir une certaine trappe avant 1948. A l'ouverture, on trouva 500 dollars, des pépites d'or et le titre de propriété.
Personnellement, j'aime beaucoup cet endroit. Quoique vous y fassiez, ajoutiez ou disiez, rien de mal ne pourra arriver.
Je n'ai pas encore pris de photos de l'intérieur, trop occupée à écouter la guide et certainement très déçue du tas de bazar à l'intérieur. J'y retournerai très bientôt c'est sûr pour me concentrer sur ce qui est d'origine.