Ciel de Quimper

&

Claude

wanted to know more about the Superstition Mountains.
Actually I don't have a closer picture of the Superstion Mountains themselves; this is a larger picture of the area east of Phoenix.
The name "superstition" comes probably from the fact that the farmers in the late 1800s were hearing stories from the Pimas about how they feared the mountain whose vegetation was totally dependent on the amount of falling water…
Later on legends were added to the area like "the lost Dutchman Gold Mine" but this is another story…
En fait je n'ai pas de photo des Superstition Mountains, ceci est une vue de l'ensemble de l'endroit où elles se trouvent à l'est de Phoenix.
Le nom « superstition » vient probablement du fait que les fermiers vers la fin des années1800 entendaient toutes sortes d'histoires des Pimas qui avaient peur de cette montagne dont la végétation n'existait qu'en fonction des précipitations.
Plus tard des légendes vinrent s'ajouter comme celle de « la mine d'or perdue de l'allemand », mais ceci est une autre histoire.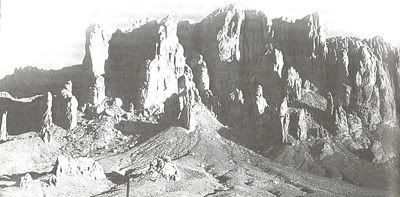 Moon Travel Guide