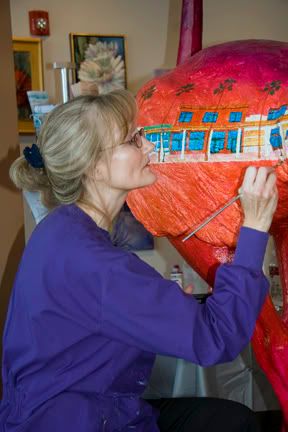 Downtown Chandler


One of the « In Studio Artist » Sandra Neumann Wilderman from Gilbert was working on one of the 78" tall fiberglass ostriches for the Art Project launched by the Chandler Chamber of Commerce. Similar projects have been done elsewhere: cows in Seattle, javelinas in Sedona…
About 15 of these ostriches should be on display downtown Chandler pretty soon. More to come.

Une des artistes, Sandra Neumann Wilderman de Gilbert, ayant son studio dans la galerie, travaillait sur une des autruches en fibre de verre d'un peu moins de 2 mètres de haut. Un projet lancé par la Chambre de Commerce de Chandler. D'autres projets similaires ont été réalisés : des vaches à Seattle, des pécaris à Sedona…
Environ 15 de ces autruches seront exposées à Chandler très bientôt. Affaire à suivre.