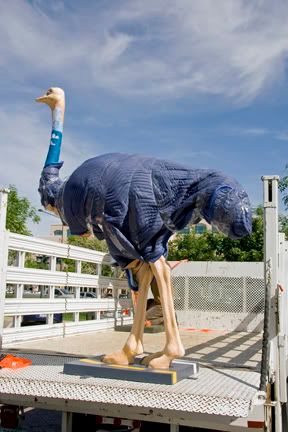 Here they come these big birds but you will have to wait a few more days till you see them along Boston St. and San Marcos Pl. If you look well enough for these all dressed up ostriches you will be able to see a couple of them ahead of time.

Ils sont là ces gros oiseaux mais vous devrez attendre encore quelques jours pour les voir exposés le long de la rue de Boston et de la Place San Marcos (comme c'est drôle de traduire les rues en demi-français) Si toutefois vous êtes assez curieux vous pourrez apercevoir quelques-unes de ces autruches déjà parées, avant l'heure !
*Ostrich Festival: March 7th, 8th and 9th at the Tumbleweek Park in Chandler.