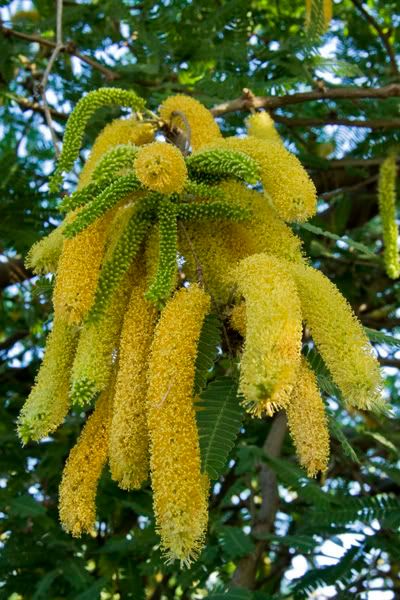 Mesquite tree - Chandler
One of the most important trees in the desert people's life.
Bean pods are pounded to make flour or mixed with water to make a refreshing drink popular in northern Mexico today. The pitch can be used as a dye to paint pottery. The roots provide strong cords and the wood is used for tools, fences, buildings and…fuel! Mesquite honey is delicious. The only drawback is the competition for water and farmers hate it for that reason.
A large pale green canopy, twisted trunks and branches against the blue sky, cluster of flowers in the spring and of beans in the fall. It's beautiful.
Did you notice the cute little face with a ruff collar?
Un des arbres les plus importants dans la vie des gens du désert.
Les graines sont pilées pour faire de la farine, les mexicains mélangent la poudre à de l'eau pour en faire une boisson aujourd'hui populaire dans le nord du Mexique. La sève sert aux teintures utilisées pour décorer les poteries, les racines sont utilisées pour les cordages et le bois sert dans le bâtiment, à la fabrication d'outils, de palissades et comme… carburant ! Le miel de mesquite est délicieux. Un gros inconvénient il récupère toute l'eau qu'il peut trouver et les fermiers le détestent pour cela.
Un joli parasol vert, des troncs et des branches tordus qui se détachent sur un ciel bleu, des grappes de fleurs jaunes au printemps et de cosses brunes à l'automne. C'est beau.
Avez-vous remarqué la petite frimousse avec une collerette ?