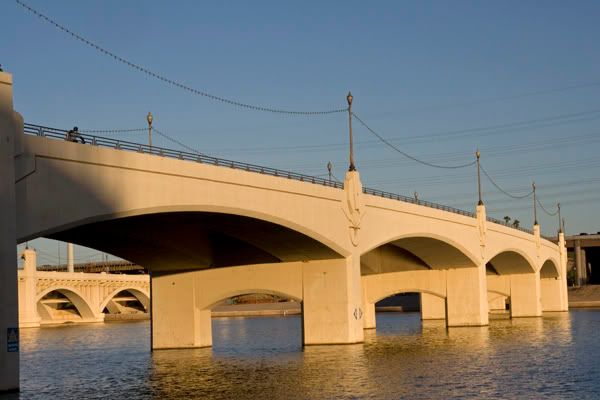 Tempe,


The Tempe Lake is an artificial lake in the Salt River bed which is usually dry. It was completed in June 1999, covers 220 surface acres and is 2 miles long.
It has a system of eight inflatable dams which can be lowered in the event of flooding so that the water would remain within the river. It's a place for boaters, kayakers, fishermen and for everyone strolling by.
The new Mill Avenue bridge (northbound) that you see here opened in 1994, it was built to relieve the original bridge from the increasing traffic.

Le lac de Tempe est un lac artificiel construit à l'emplacement de la Salt River dont le lit était en général à sec. Sa construction fut achevée en juin 1999 et recouvre une superficie de 89 ha sur une longueur d'environ 3 kilomètres. Huit énormes flotteurs gonflables servent de barrages et peuvent être dégonflés en cas d'inondation pour contenir l'eau. C'est un endroit pour faire du kayak, pêcher ou tout simplement se promener.
Le nouveau pont de Mill Avenue, direction nord, que vous voyez ici, a ouvert en 1994 et a été construit dans le but de soulager le premier pont de l'augmentation incessante de la circulation.