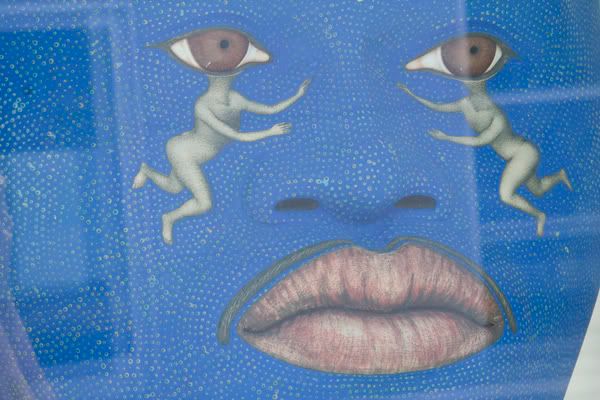 Mesa Art Center - Serguei Isupov, July 2009


Serguei Isupov is born and raised in Ukraine and now lives in rural Massachusetts.
"Androgyny: New Work" is the name of his exhibit at the Mesa Art Center.
I liked very very much what I saw. Unusual, a little bit uncomfortable at first though I couldn't say why. I stayed quite a long time in front of each one of these heads. Too bad we can't see the vignette underneath the sculptures.
"Invisible man… School boy… Modesty… Inspiration… What else is there…" are the ones I can still visualize and kept me busy for a while.
Stoneware, stain, glaze for the sculptures ranging from $40,000 to $50,000, charcoal and gouache for the drawings go for $8,000 each.
"I considered my sculptures to be a canvas for my paintings.

"
Serguei Isupov est né et a grandi en Ukraine, il vit maintenant dans le Massachussetts."Androgyny: New Work" est le nom donné à son exposition au Centre d'Art de Mesa.J'ai beaucoup beaucoup aimé ce que j'y ai vu. Insolite et peut-être, au départ, un peu dérangeant mais je ne peux dire exactement pourquoi. Je suis restée en face de chacune des têtes pendant un assez long moment. Dommage on ne peut voir les vignettes au dessous des sculptures.« Homme invisible… Écolier… Modestie… Inspiration… Quoi d'autre y a t'il ici?… « sont celles que je peux encore visualiser et qui m'ont gardée occupée un bon moment.Céramique, colorants et vernis pour les sculptures qui sont vendus entre 40 et 50 000 dollars, fusain et gouache pour les dessins vendus 8 000 dollars chaque.
"J'ai pris mes sculptures comme une toile pour mes peintures."

Serguei Isupov "Man" 2009