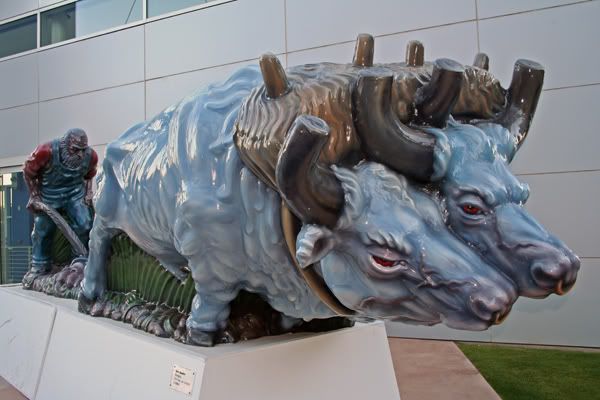 Luis Jimenez - "Sod buster" 2006


A year ago I would not have been able to take a picture of Sergei Isupov's creations you saw yesterday which are located in little niches in the wall of the Arts Center. Instead stepping back in space and in time you would have seen this incredible sculpture in fiberglass signed Luis Jimenez describing the hard work of a man behind a plow.
Luis Jimenez died in 2006 in his studio when part of a sculpture he was working on fell on him.
La sculpture n'est plus là...

Il y a un an je n'aurais pas pu prendre une photo des créations de Sergei Isupov que vous avez vues hier qui sont nichées dans de petites fenêtres dans le mur du Centre d'Art. Reculant dans le temps et dans l'espace vous auriez vu cette sculpture incroyable en fibre de verre signée Luis Jimenez représentant le dur travail du laboureur derrière une charrue.
Luis Jimenez trouva la mort en 2006 écrasé, dans son studio, par un morceau de sculpture sur laquelle il travaillait.
The sculpture is not here any more...
* Sodbuster: mot d'argot désignant un fermier.