So here it goes:
The elements are titled "Progression of Transportation" and are "rusted steel images locked into seating walls." Sculptor: David Brant, 2009.


Voici le déroulement de l'affaire:
Les éléments sont intitulés « Cheminement du Transport. » Ce sont « des images d'acier rouillé encastrées dans des mur-banquettes.» Sculpteur: David Brant, 2009.

An eight to ten foot pair of walking legs

Une paire de jambes d'environ deux mètres.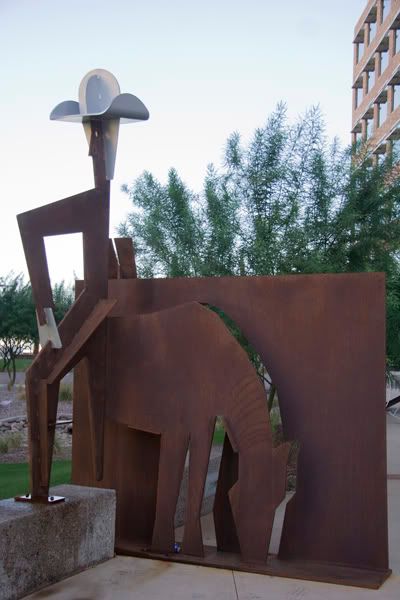 A cowboy on horseback.

Un cow-boy à dos de cheval.
A bicycle
Une bicyclette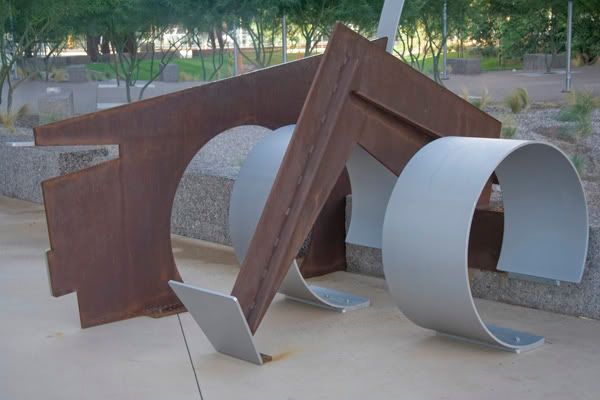 A pair of over-scaled aluminum elements (fender, hood ornaments, vehicle, leg hitting
brake pedal)
Quelques éléments démesurés en aluminium (pare-choc, ornements de capot, véhicule, jambe appuyant sur la pédale de frein)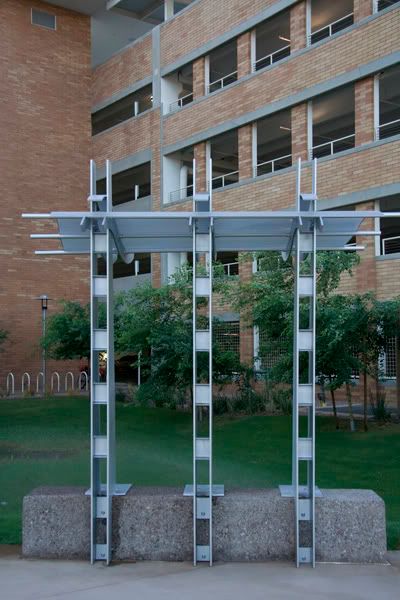 Three large aluminum fins.
I could not figure out that these were "fins" while photographing the 5th element so you see what you see. A sideways picture could have better rendered the idea of fins I presume.
Trois grandes nageoires.
J'étais loin de penser à des nageoires en photographiant le 5ième élément aussi vous voyez ce que vous voyez. Une photo prise de côté aurait probablement mieux dépeint l'idée de nageoires.