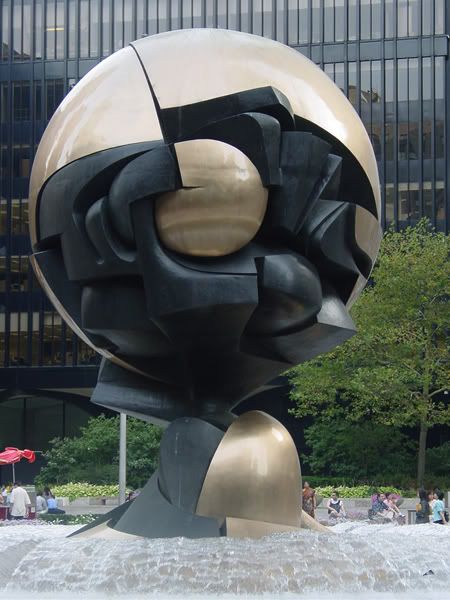 "The Sphere" Fritz Koenig, New York City, August 2001


After Sept. 11th the
Sphere
has been reassembled and relocated to Battery Park.
Après le 11 septembre, la
Sphère
a été réassemblée et transportée à Battery Park.

P.S.
The sphere, by sculptor Fritz Koenig, was located in front of the two Towers since their opening in 1971. Severely damaged, a new base was created and The Sphere is now located at Battery Park as a temporary Memorial waiting to return to its original location.

La Sphère, œuvre du sculpteur Fritz Koenig, se trouvait au pied des Tours depuis 1971 avant que celles-ci ne tombent. Très abimée elle a été remise sur pied et transportée dans le
"Battery Park" faisant face au port à Manhattan. Elle sert de mémorial avant qu'elle ne retrouve sa place d'origine.