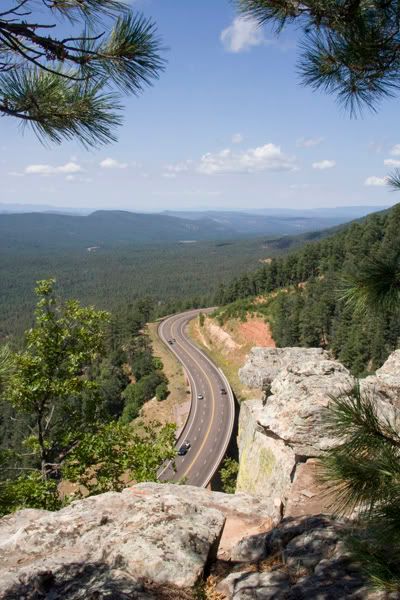 From the rim, Hwy 260


Hpy
questioned about "Tontos" and was right about the Spanish meaning "foolish."
The Tonto Basin was at first inhabited by the Tonto Apache (name applied to nearly all Indians in Arizona) but nobody knows for sure the origin of why "Tonto."
The elevation goes from 1,400 in the desert to 7,400 feet on the Mogollon Rim!



Hpy

se posait des questions

au

sujet du mot "Tontos" et avait raison sur le sens du mot d'origine espagnole que je traduirais par « foufous. »
Le bassin du Tonto fut d'abord habité par les Apaches Tontos (un nom utilisé pour désigner les premiers Indiens d'Arizona) mais personne n'a d'explication sûre sur l'origine exacte de « Tonto. »
On passe de 420 mètres d'altitude dans le désert à 2250 mètres au sommet du Mogollon Rim.
East of See Canyon Trail