Last week, while enjoying exceptional
artists
at the Phoenix Botanical Garden, I discovered
Allan Houser's
sculptures. Superb!
La semaine dernière, en même temps que de découvrir des
artistes
extraordinaires au Jardin Botanique de Phoenix, j'ai découvert les sculptures
d'Allan Houser
.
Superbe!
"When friends meet" Allan Houser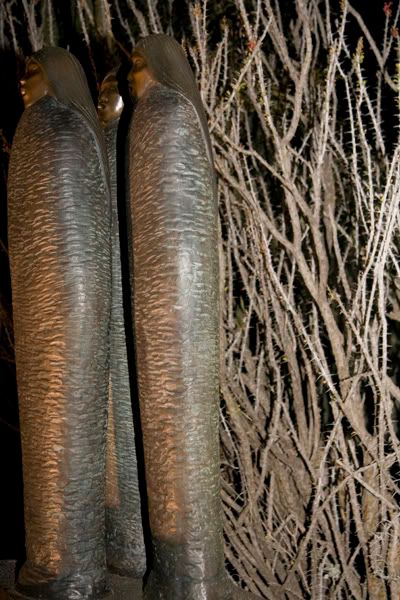 "Mountain echoes" "Personification of three singers in harmony with their landscape, history and culture."
"Mountain echoes" "Personnification de trois chanteuses en harmonie avec le paysage, l'histoire et la culture"

Allan Houser (born Allan Capron Haozous) 1914-1994
His parents were Chiricahua Apache (Oklahoma). Allan Houser studied painting at the Santa Fe Indian School and started exhibiting in 1939 all over the states.
He taught art in Brigham City, Utah. He then created the sculpture department of the Institute of American Indian Arts in Santa Fe and started exhibiting his own sculptures in the late 60's. He then retired in 1975 to devote himself to his own work.
In the two following decades he would produce close to 1,000 sculptures in stone, wood, and bronze.
Allan Houser (né Allan Capron Haozous) 1914-1994.
Ses parents étaient des Apaches Chiricahua d'Oklahoma. Allan Houser étudia la peinture à Santa Fe Indian School et commença à exposer en 1939 dans plusieurs états des Etats-Unis.
Il enseigna l'art à Brigham City, Utah. Ensuite il créa le département de sculpture à l'institut des Arts Américains Indiens à Santa Fe et exposa ses propres sculptures vers la fin des années 60. Après avoir pris sa retraite en 1975 il se consacra entièrement à ses propres créations.
En l'espace de 20 ans il produira près de 1000 sculptures en pierre, bois et bronze.
"Abstract crown dancer"