You are a Tiger or a Geng Yin if you are born in the following years: 1914, 1926, 1938, 1950, 1962, 1974, 1986, 1998 or 2010.
February 14th 2010/February 2nd 2011: year of the Metal Tiger.
Associated with the Tiger symbol and the Metal element.
Vous êtes un Tigre ou un Geng Yin si vous êtes natifs des années 1914, 1926, 1938, 1950, 1962, 1974, 1986, 1998 ou 2010.
14 février 2010/2 février 2011: année du Tigre de Métal
sous le signe de l'animal symbolique Tigre et de l'élément Métal.*
* Une précision importante apportée par
Miss Yves
dans les commentaires:
du 13/02/26 au 01/02/27 : Feu
du 31/01/38 au 18/02/39 : Terre
du 17/02/50 au 05/02/51 : Métal
du 05/02/62 au 24/01/63 : Eau
du 23/01/74 au 10/01/75 : Bois
du 09/02/86 au 28/01/87 : Feu
du 28/01/98 au 15/02/99 : Terre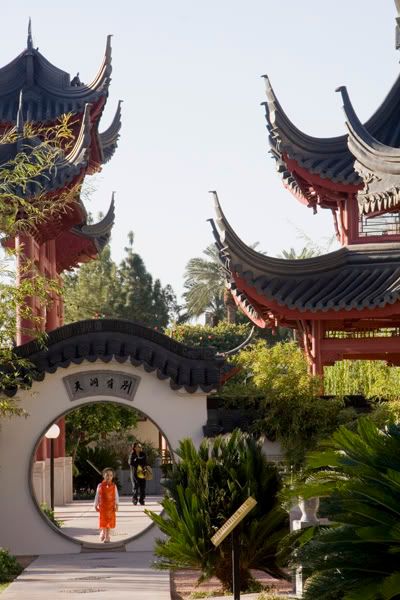 Phoenix, 2010


The Chinese Culture Center (COFCO) is a center with office space, shops, a grocery store which sells Asian food and restaurants and a traditional Chinese garden with replicas of ancient pagodas and statues.
The Heavenly Entry Way: an entry way to the culture and knowledge.

Le Centre Culturel Chinois (COFCO) est un centre de bureaux, de magasins, d'une épicerie asiatique, de restaurants et d'un jardin traditionnel chinois avec des copies de pagodes et de statues anciennes.
La porte d'entrée céleste: une ouverture à la culture et à la connaissance.


Stone lanterns are found in traditional Chinese gardens. During the Sui and Tang dynasties (500AD) it was popular for Japanese scholars to study in China. They returned to Japan with the design and since lanterns have been popular to Japanese gardens too.

On trouve les lanternes de pierre dans les jardins traditionnels chinois. Durant les dynasties Sui et Tang en 500 apr. J-C il était fréquent pour les étudiants japonais d'aller étudier en Chine. Ils en revenaient avec une esquisse et depuis ces lanternes sont populaires également dans les jardins japonais.