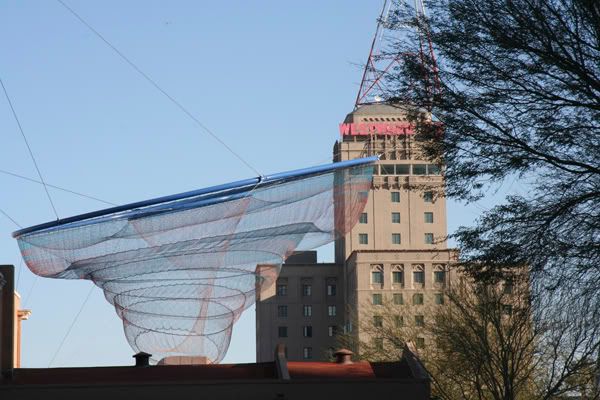 Downtown Phoenix, Civic Space Park, Central Avenue and Taylor Street, 2010


The artist, Janet Echelman, named this floating art piece "Her secret is Patience" after a quote by the American poet philosopher Ralph Waldo Emerson, who wrote "Adopt the pace of nature; her secret is patience."
Janet Echelman
was inspired by the cereus cactus,
the saguaro blossom.

The work during construction was unofficially referred to by the nickname "Sky Bloom."
L'oeuvre d'art nommée par l'artiste Janet Echelman « Her secret is Patience », fait référence à la citation du poète américain Ralph Waldo Emerson « Adopter le pas de la nature ; son secret est la patience. »