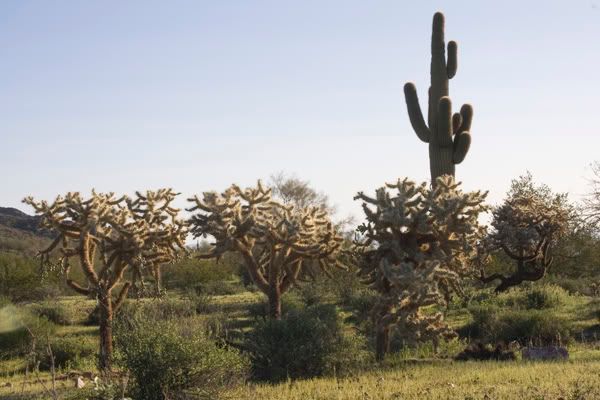 San Tan Mountains, March 2010

Opuntia bigelovii of the Cactus Family or is it a Opuntia fosbergii ? I can't really make a difference between both when I out there... Adults the bigelovii are smaller than the gosbergii and the spines have a slightly different color.


Opuntia bigelovii ou bien Opuntia fosbergii, de la famille des cactacées ?Je ne peux vraiment faire la différence lorsque je suis sur le terrain… Les bigelovii adultes sont plus petits que les gosbergii et les épines d'une couleur légérement différente.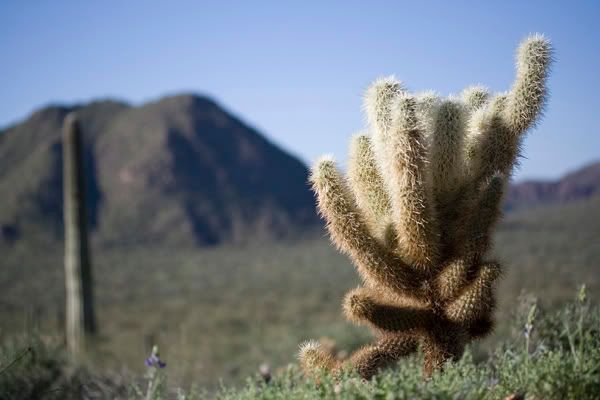 These cactaceae which grow slowly up to 6' everywhere are called « jumpy » because their arms break easily at the slightest touch. Don't ever try because the thorns are sharp and painful to remove. Whenever I go hiking I make sure to bring tweezers...

Ces cactées, qui peuvent atteindre jusqu'à deux mètres, poussent lentement un peu partout et sont appelés "jumpy/sautillants" car leurs bras tombent au moindre contact. N'essayez surtout pas d'en faire tomber un, les épines sont vraiment pointues et les retirer est douloureux. Lorsque je pars faire une excursion, j'essaye (!) de ne pas oublier d'emporter une pince à epiler.