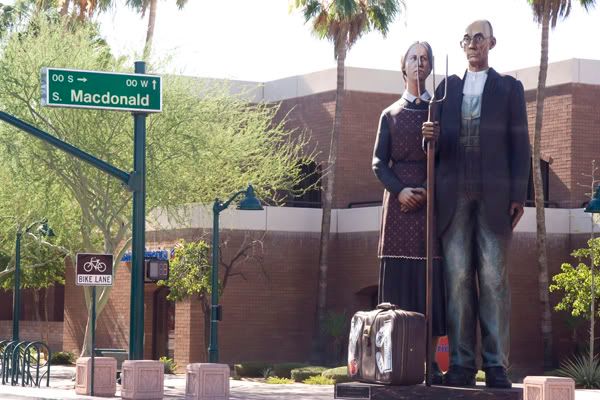 Downtown Mesa 2010 "God bless America"John Seward Johnson, 1995
Following Friday's
Intermezzo
…
This is a 25 foot tall sculpture inspired by the "American gothic" a dual portrait or a farm couple painted by Grant Wood in1930. The painting is an example of the Regionalism movement and has become a cultural icon.
John Seward Johnson, an artist sculpting statues of everyday people, often imitating other people's work but adding some message to it.
Suite à l'
Intermezzo
de vendredi…
Une sculpture d'à peu près 8 mètres de haut, inspirée par « American gothic » le portrait d'un couple de fermiers peint par Grant Wood en 1930. Un exemple, Une icône du mouvement régionalisme américain dans l'art.
John Seward Johnson, un artiste sculptant des personnages de la vie de tous les jours, imitant souvent le travail d'autres artistes mais y ajoutant un message personnel.