Following yesterday's mural which had some success:
Suite au succès de la frise le long de la crique, hier:

Prescott, April 2011
there were a few other murals and graffitis on walls.
il y avait d'autres frises et graffitis sur les murs de la ville.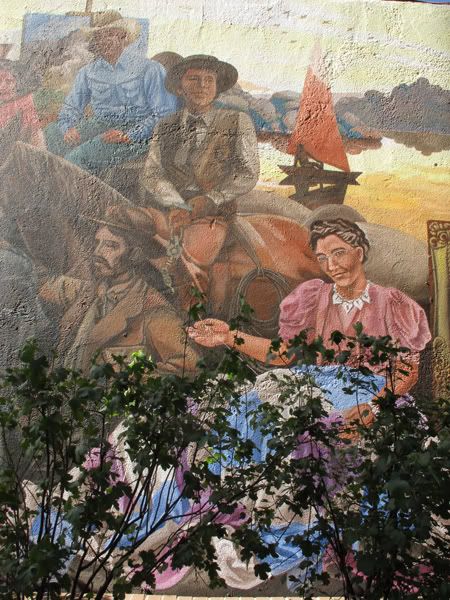 In the alley behind the Palace
A mural celebrating Prescott's Art history designed with inputs from citizens and archives. The lady is Emma Andres (painter/quilter), next to her Jules Baumann (photographer/artist), the gentleman on the horse behind Louis Charleton and behind him Georges Phippen.
Une frise célébrant l'histoire artistique de Prescott. Elle a été concue grâce aux données soit données par les habitants soit trouvées dans les archives. La femme representée est Emma Andres(peintre/quilter), à côté d'elle Jules Baumann (photographe/artiste), derrière à cheval, Louis Charleton et derrière lui George Phippen (painter and sculptor).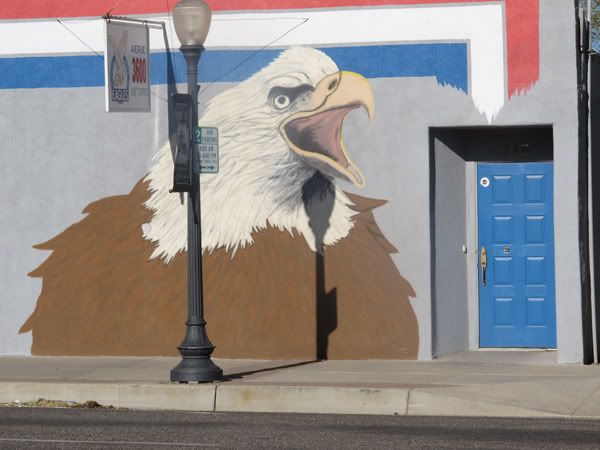 Aerie 3600 Prescott Eagles on Cortez St.
A non profit charitable organisation.
Une association à but non lucratif.
And this one concerning the immagration. That's all for today.
Et celle-ci au sujet de l'immigration. C'est tout pour aujourd'hui.