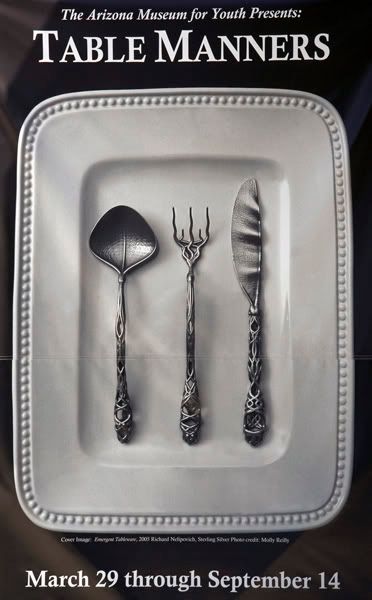 Good manners are of all times. And the most unfortunate will remember "keep your elbows off the table!" This long stay in the U.S. leaves me the choice of putting my hands "on" or "under" the table according to the place, the company or my mood.
A view and interacting exhibition at the Arizona Museum for Youth where you look through the eyes of 21 artists and discover etiquette used when eating.
If you wish you may even sit down and practice on how to fold napkins or play Origami…
My own conclusion: just don't embarrass yourself whenever you are eating around people.

Au Musée de la Jeunesse de Mesa jusqu'à la mi-septembre on découvre l'art de se tenir à table à travers les yeux d'une vingtaine d'artistes. Si on le désire on peut même s'asseoir et s'exercer à l'art de plier les serviettes ou de jouer oregami…
Qui se souvient : « Sors tes coudes de la table » clin d'œil à mon frère aîné… qui se l'entend toujours dire... Ce long séjour aux Etats-Unis me donne le choix de mettre les mains « sur » ou « sous » la table suivant l'endroit, la compagnie ou mon humeur du moment.
Ma conclusion personnelle : n'ayez pas honte de vous-mêmes lorsque vous êtes en bonne compagnie.