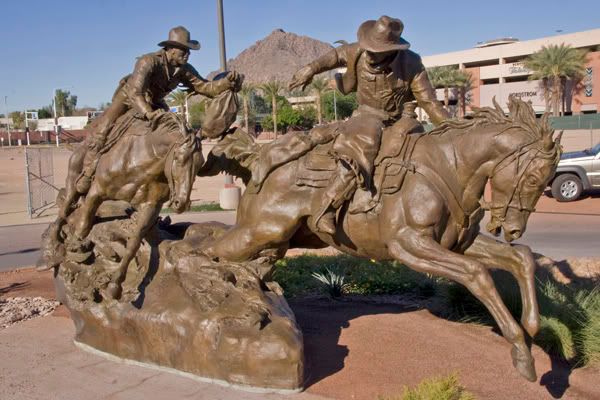 Herb Mignery "Passing the legacy" Marshall Way Roundabout, Scottsdale 2008


The statue depicts two riders, one from the past, the other from the present.

It all started in the1880's with the cattle company known as the Hashknife Outfit based in Hollbrook Az, and remembered more for it's size than for the cowboys who were sometimes wanted by the law!
Later on, in the winter of 1954 the Navarro County Sheriff organized a search and rescue posse which since performed other services like hunting wanted men or rescue lost children or hunters. . The members (about 65) of the Hashknife Poney Express were expected to furnish their own equipment when called on duty,

*The hashknife was a tool originally used to cut meat for hash fed to the cowboys on a range.


La statue montre deux cavaliers, l'un du passé, l'autre du présent.

Tout a débuté dans les années 1880 avec la troupe connue sous le nom de « Hashknife Outfit » basée à Hollbrook, Arizona et dont on se souvient plus pour l'étendue de son territoire que pour les membres qui la composaient, souvent recherchés par la justice.

Durant l'hiver de 1954 le shérif du conté de Navarro organisa un groupe en charge de rechercher et de sauver des vies et qui, depuis, étendit ses activités comme de courir après les hors la loi ou de sauver les enfants perdus ou les chasseurs égarés. Les membres de cette organisation, d'à peu près 65 membres, lorsqu'ils étaient appelés à servir, devaient mettre à la disposition du Poney Express leur propre équipement.

* Le « hashknife » était l'outil utilisé à hacher la viande des cowboys dans les ranches.