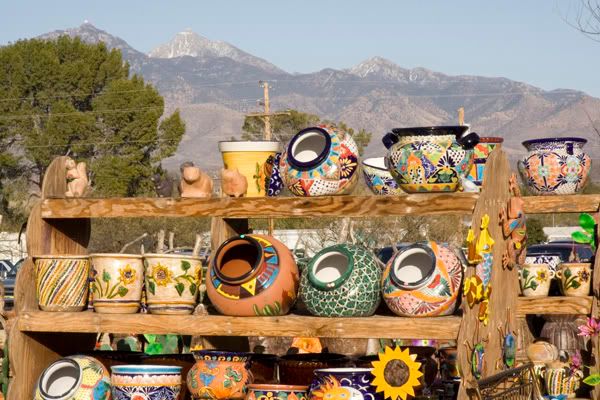 Tubac, Feb. 2010


A little bit of history, as I perceived it (!)
Tubac, a Spanish mission, a Presidio (a fort) established in 1752 to Christianize, control Native Americans (Pima and Papago Indians) and protect their holdings.
In 1821 Mexico took over the area from Spain.
In 1840 Tubac was deserted after repetitive attacks from the Apaches.
The United States took over in 1854 (Gadsden purchase of 1853) In 1863 Arizona is declared a territory.

Back to our Art Festival:

Un petit peu d'histoire, tout du moins comme j'ai cru la comprendre !
Tubac, une mission espagnole, doublée d'un fort, établie en 1752 pour christianiser, contrôler les Indiens Papago et Pima et protéger ses propres biens.
En 1821 le Mexique prend la relève de l'Espagne et contrôle la région.
En 1840 Tubac est désertée après avoir été attaquée maintes fois par les Apaches.
Suit l'achat au Mexique (Gadsden) en 1853 d'une zone qui inclut Tubac, et en 1863 l'Arizona est déclaré territoire fédéral américain.

Retournons à notre festival :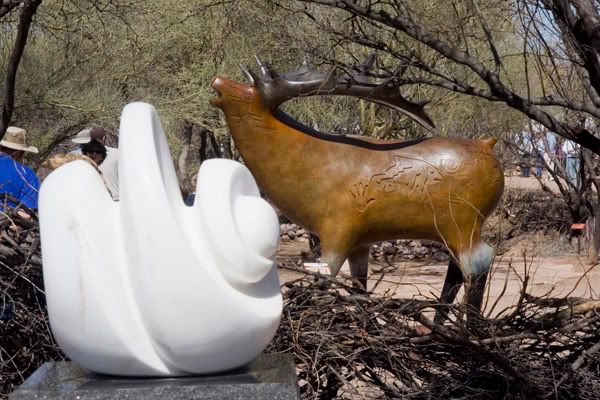 In the sculpture garden but I forgot to write down the artists' names...
Dans le jardin des sculptures, mais j'ai oublié de noter le nom des artistes...
José Cabezas from Ecuador but who lives with his family in California is building his own music instruments.
José Cabezas, d'Ecuador mais qui, avec sa famille, est installé en Californie fabrique lui-même ses instruments de musique.