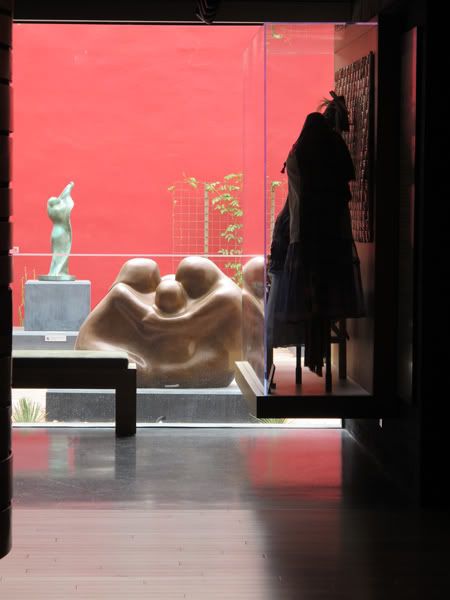 Phoenix, July 2011 -
Retha Walden Gambaro-
The museum is about traditional and contemporary arts of Native peoples.
Une belle entrée en matière serait de visiter ce musée d'art traditionnel et contemporain Indien.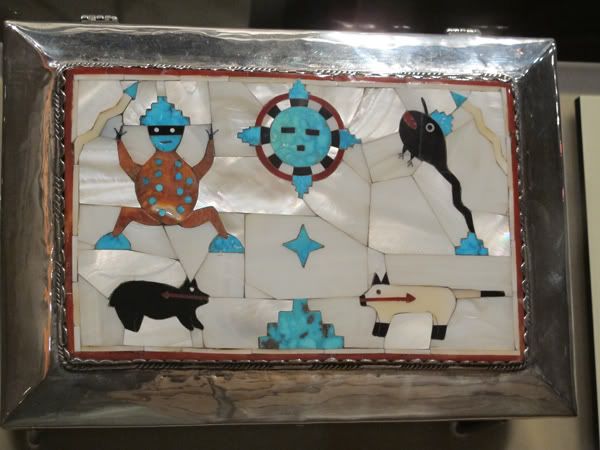 Mary Kallestewa, Zuni & Roger Skeet, Navajo - Box -
- Boîte -
Mary Kallestewa (1915-1980s) a Zuni* artist known essentially for her mosaic overlay.
Mary Kallestewa (1915-1980s) une artiste Zuni* est principalement reconnue pour son art d'incrustation de mosaïques.
*The Zuni People live in New Mexico
* Les Zunis habitent dans l'état du Nouveau Mexique
Suite au commentaire de Miss Yves:
Following Miss Yves Comment:
Not having the proper documentation I can't give you much about the symbols. Mary Kallestewa is a Zuni and I read that she was influenced by archaeological digs at Hawikku, a Zuni village in New Mexico.
Bear = healing and strength (arrow pointing right: protection/arrow pointing left: warding of evil)
Lightning arrow = swiftness
Sunface = giver of Life (the rays being representing the four directions)
Any other explanations are welcome.
N'ayant pas de documentation assez fournie je ne peux vous donner beaucoup d'explications sur ces symboles. Mary Kallestewa est une Zuni, influencée dans son art par les fouilles d'Hawikku, un village Zuni du Nouveau Mexique.
Ours = guérison et force (pointe de flèche vers la droite : protection/vers la gauche :
protection contre le mal)
Flèche en forme d'éclair = rapidité
Soleil = symbole de vie, donneur de vie (les rayons représentant les quatre directions)
Toutes autres explications sont les bienvenues.