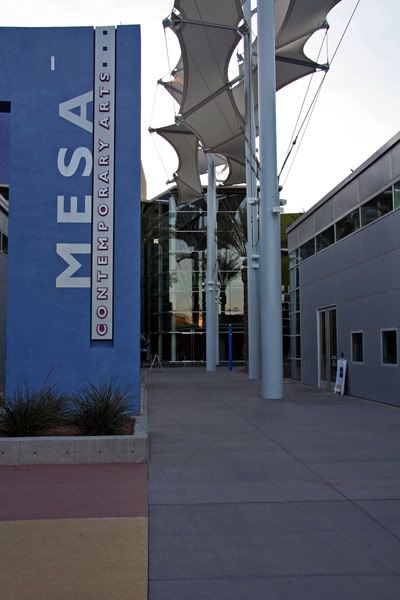 Mesa, 2007, on Center & Main Street
This Art Center, which opened in 2005, was designed by a team of two architecture firms: Boora (Portland, Or) and DWL (Phoenix, Az) and Planners of Phoenix.
During the day it's a place to gather with friends, listen to free performances or eat lunch. At night same thing plus the pleasure of lights and shadows and performances inside.

Ce centre d'art qui a ouvert ses portes en 2005 a été conçu par deux sociétés d'architecture : Boora (Portland, Or) and DWL (Phoenix, Az)
C'est un ensemble très visuel de jour comme de nuit.
Pendant le jour on peut s'y donner rendez-vous avec des amis, voir des spectacles gratuits (lorsque la température le permet) ou « y casser la croûte. » Le soir même chose avec en plus le plaisir des ombres et des lumières et des spectacles à l'intérieur.

The shadow walk with a water table
La promenade ombragée avec une table d'eau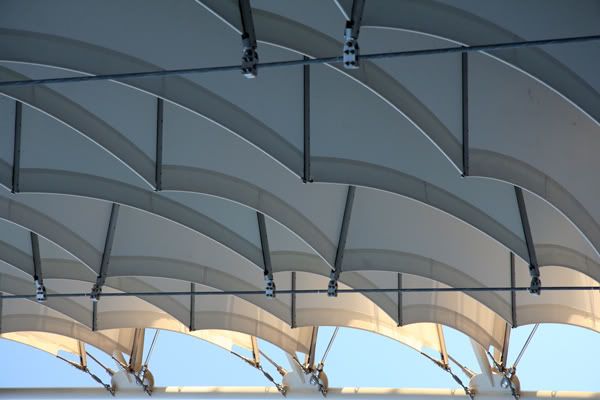 Shade from giant canopies that sail in the sky
Dans l'ombre de géantes voilures dans le ciel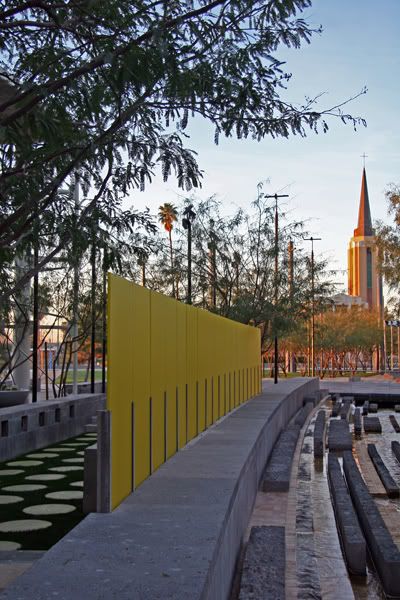 The garden oasis. a methodist church at the back
Le jardin oasis avec une église methodiste au fond